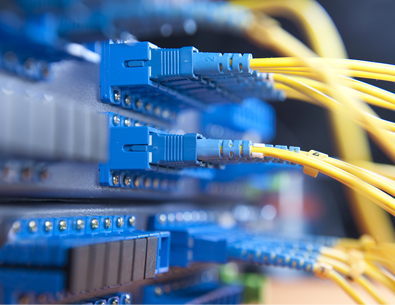 Network Monitoring, Management and NOC Operations
Your office, workplace, store or facility is increasingly dependent upon connected infrastructure. Numbers of devices that ride on wired and wireless networks are ever increasing, and new applications are adding traffic on the network. Complexity is added by video, security, telephone traffic. Legacy applications use little bandwidth, but they are still business critical. Many users experience random slowness which affects business adversely. Easy Server Management offers complete Network Monitoring, Management and NOC operations customized subscription packages to ensure a congestion-free network for your business. We will monitor all network devices and critical servers/services and initiate corrective actions for all failures and slowdowns.
Do you know that the latest technology VOIP phones drop call quality when someone is watching video?
Do you experience a frequent and sustained hour-glass spinning when you use an application?
Do you experience a long file opening or saving time on network for no apparent reason?
Do some of your users have accepted slow connectivity as normal?
All these non-interrelated factors are actually related because they share the same physical network. While bandwidth usage increases all the time and sometimes it may be configuration of your network devices, switches, routers, firewalls, wireless access points.
Our trained staff will keep a vigilant eye on all your network components and critical servers as well as services to ensure a congestion-free optimal performance from your investment. They will make sure that all your legacy applications get along with new technology bandwidth intensive gizmos and devices.
Complete Monitoring Service available from $499.00 Setup and $99.00/per month
For a customized quote,
Call +1-630-723-5510
CONTACT US
email: sales@easyservermanagement
.com
Our Price includes Monitoring Appliance and Software License
Customized Thresholds Real-Time Alerts Proactive Monitoring
We do Holistic Monitoring of Network and Servers for
Availability of Switches Routers, Firewalls, Access Points, and Load Balancers
Availability of Critical Servers
Service Availability and Response Time
Network Traffic Metering via SNMP across switch and NIC ports
CPU, Memory and Hard Drive Space Utilization of Critical Servers
Analysis of Event Logs
Analysis of Network Traffic for Utilization and Performance (End-User Experience)
Analysis of Intrusion Attempts
Analysis of Memory, Processor Utilization and Error Counters on Switch Ports
Analysis of Interconnectivity and Change in Connected Devices
Vigilance of Rogue and Pear-to-Pear protocols
Alerts for all exceptions
Performance Monitoring:
Network Speed
Server Speed
Application Speed
Database Speed
Utilization Monitoring:
Network Traffic
Flow/Transaction
CPU / Memory / Storage
Availability Monitoring
Servers
Network Devices
Services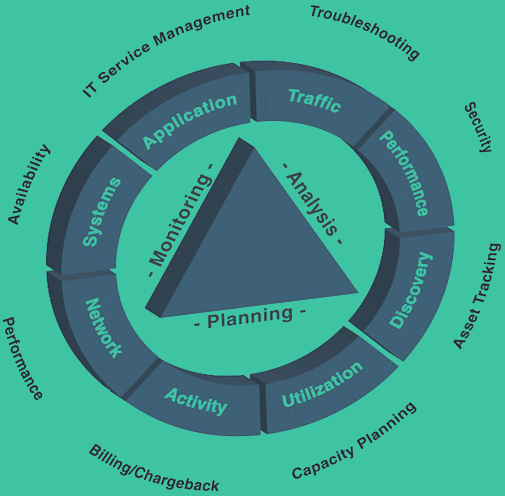 Proactive monitoring of availability, utilization and performance of your networks, applications and network based services offer tactical and strategic advantage.
Tactical Approach:
Alert upon performance degradation
Problem source identification
Triangulation and isolation of the source of production problems to the network server or application
Reduce mean time to repair
Quick analysis of root cause
Advantage:
Improved uptime and performance

Strategic Approach:
Analysis of utilization and performance of network, bandwidth, servers, services and application
Advantage:
Plan and optimize technology resources such as network bandwidth, server hardware, application licenses and client devices