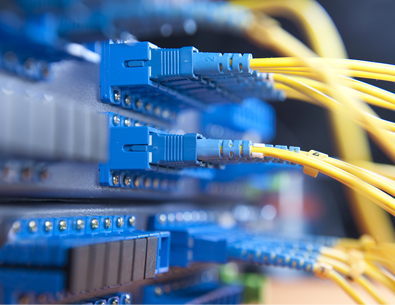 Network Switches, Routers and Firewall Management
Your office, workplace, store, or facility is increasingly dependent upon connected infrastructure. Numbers of devices that ride on wired and wireless network are ever increasing and new applications are adding traffic on the network. Complexity is added by video, security, and telephone traffic. Legacy applications use little bandwidth, but they are still business critical. Many users experience random slowness which indirectly costs more than having one of Easy Server Management subscription services. Our services will analyze your network and manage your edge and core devices for configuration, security, and optimization.
Do you know if your network devices are vulnerable to intrusion?
Do you know if the access to your network devices from outside is turned off or on?
Do you know settings in your switches, routers and network appliances are optimum and adequate resources are available at peak time?
Are your network devices patched up to the latest version of released software?
Are you taking advantage of all features of your network devices to secure your network and prevent attacks and intrusions?
If you know the answers to all these questions, you are probably a savvy network administrator. However, even most savvy administrators sometimes fall behind in these ongoing tasks due to lack of time. In many small or medium size businesses, usually there are not enough ongoing tasks or spare test environment for testing the network layer. Thus, IT staff often falls behind on the routine network device maintenance. Our full service package is for businesses users and service providers who either does not want to become an expert at securing and updating network, or does not have time to do all the routine tasks. With this complete administration package, we take away this responsibility, free you up to do what you do best…run your business. With a full service package for each device, you can leave the hassles of administration to us. Each of our engineers has certifications and 4-10 years of experience managing network in production environment. With this highly skilled technical staff, we provide professional yet affordable network administration and monitoring services.
We manage all network switches routers and firewalls for all routine and not so routine tasks. Firewalls are meant to secure your internal network and your servers that are meant to serve your customers. Often their own security is at risk. Similarly, other network components are often the initial targets of intruders.
Easy Server Management staff makes sure that all your network devices are healthy, error free, configured to be utilized to their maximum potential and most importantly, secure.
All of the above at $65/h or $99.00 Setup and $99/month per device* subscription
*Multifunction devices are counted as one device for each function.
Multiple appliance and whole network discounts are available, contact sales@easyservermanagement.com for more information
Setup fee and first month's service due upon signing
Monthly fee will be due on the anniversary date of your signup and is not prorated to the beginning of each month.
24/7 Security Monitoring: We monitor your devices 24/7 to ensure that your device is secure and working properly. All outages are handled immediately so that their business impact can be minimized.
Anti-Virus Signature Patrolling: If your appliance is performing antivirus service at your network edge, we ensure that its entire signature is most up-to-date as released by your software vendor.
24/7 Support via Trouble Ticket: We have staff available at all times to support you and assist you with your devices. Should you need anything to make your business run more smoothly; we will be here to do our best to provide it.
Up to 10 hours of Systems Administration Work per Month per Device: You get 10 hours of dedicated time per month to have our experts manage your server and assist you with any issues you may have. (Please note 5 hours are allocated automatically to security and service monitoring. 5 hours are available for ticket support).
Managing and Monitoring VPN Connections: We monitor and ensure that the access to your network devices by is only by networks authorized by you and are according to your policies.
Log Monitoring for Unusual Activity: Your logs are a vital part of telling how your device is performing. We analyze daily logs from the appliances using a syslog server and creating a co-relation report
Manipulation of Rules Based on Log Activity: Our staff monitors your devices and when needed, our technicians adjusts settings to keep out intruders.
Security Updates as Released by IOS provider: We test upgrades thoroughly as soon as your IOS vendor releases them, and as soon as we are satisfied they are stable for production use, we apply them to your devices.
Regular Security Scans and Penetration Testing: We perform regular security scans and performance testing using latest available tools and proprietary methods.
Consultation via Trouble Ticket Regarding Future Hardware/Software Purchases: Need a second opinion? Not sure which provider / appliance / add on to go for? We are here to help you every step of the way.
Consultation with a Security Expert on Matters Requiring Action: We have staff available for consultation if you have any security concerns or questions. We'll notify you immediately if there is something happening on your server, advise you what action we have already taken, and allow you to discuss your options with one of our security professionals.
Live Support:
Live support via telephone and expert technician callback is available and included
Overage:
In any month when time is to exceed the 10 hour package:
Prior written approval will be required from the client unless a pre-authorized "not to exceed" time period has been established. All additional hours will be billed at the discounted rate of $65.00 USD/hour.
Setup fee and first month's service due upon signing
Monthly fee will be due on the anniversary date of your signup and is not prorated to the beginning of each month.
Sign up Today
In order for Easy Server Management to get a direct help from your hardware / software vendor, antivirus/antispam service and IOS updates you must have appropriate service agreement / subscription from the vendor.
For devices behind firewall, an access through your firewall or site to site VPN would be necessary.
Thorough Security Assessment and Appraisal: We perform an initial scan to ensure that your network devices are safe and secure. We also evaluate if there are any potential vulnerabilities.
Securing of Permissions: We evaluate permissions to local and remote users as well as to applications, and secure your device.
Configuration of Logging Services: We configure your device's logging into local memory as well as to remote administration server to ensure all problems are caught the moment they show signs of occurrence.
System Control Configuration and Optimization: We make sure that your devices are performing its best through configuration of the system control files, which is essential to the optimum operation of your server.
Vulnerability Assessment: We review and correct any vulnerability that may exist into your devices because of buggy IOS, lack of application patches, or configuration settings.
Patching and Update of IOS: We update your devices' IOS with the latest available stable release of patches, closing security vulnerabilities that may have appeared in earlier revisions.
Access Security Enhancements: We consider this a standard service. We utilize the most secure configuration of your administrator account to protect from unauthorized attempts to access your appliance.
Active Load Monitoring: If your appliance has the feature, we monitor the processors and memory utilization patterns of your devices to ensure a healthy availability of services and to give an advance warning of potential issues.
High Security Services Monitoring Setup: We perform all settings either from your network of through secure access from our side for monitoring availability, services and logging.
Deactivation of Unused/Insecure Services: This saves your valuable resources by deactivating the services you do not need. This ultimately boosts the speed and responsiveness of your appliance, as well as secures the services that hackers thrive on.
Configuration File Backups: We backup your configuration files and maintain each subsequently changed version. This insures that if there is any potential issue with hardware, or with configuration, we can quickly revert back to the last known to work configuration without any guesswork.
Configuration of Your Access in Our Support System: We do all necessary configuration in our system so that a ticket can be opened by you in our system and it gets escalated to appropriate priority and personnel whenever you contact us through phone, email or other means.
Supported Devices:
Most managed Switches
Most Routers
CISCO and Sonicwall Firewalls
CISCO VPN Appliances
Most Layer 2-7 Switches / Load Balancers
If your device is not listed here, please call, good chances we may already support it.
Server Services Monitoring:
We will monitor and report following attacks.
Port scans
IP stack fingerprinting
TCP protocol anomalies and TCP evasion attacks
IP defragmenter detects
Denial of Service attacks and fragmentation evasion techniques
HTTP-based attacks
RPC anomalies
Telnet negotiation code anomalies
ARP spoofing, polymorphic shellcode and ASN.1 encoding irregularities